SPECIAL EVENTS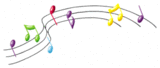 Every Spring we try to have a Recital.
It is a fun thing for the students and give the parents a chance to hear there children
and the adults that take part a chance to perform for other people.
Usually this Recital is held a Sunday afternoon so most people are able to attend.
Parents, family and friends are invited.
Keep tuned for the scheduled day and time for our next Recital !